Smart Orthodontic Diploma !
Smart Orthodontic Diploma !
We are different from other traditional orthodontic learning! We learn by applying Orthodontic Techniques clinically with real patients "
Course Overview:
Orthodontic is interesting challenging field and it is easy more than you think! Traditional learning makes orthodontic more complicated, and make general dentist stop performing orthodontic treatment. In this one year program, we will teach simpler comprehensive straight wire concepts, based on accurate diagnosis
. In this course, the attendees will have opportunity to treat patients, and apply theoretical knowledge clinically through our smart condensed clinical Diploma

Register now in our and learn the basics and advanced aspects of this challenging field. You'll also get the chance to work hands-on practical sessions on patient cases from A to Z. Moreover, you get to inspect dozens of cases, struggling with complications in all classes and monitor their treatment plans whilst under the guidance and support of professionals equipped with the required knowledge and skills.

Apply now! Furthermore, you also get the chance to prepare and actively indulge in the preparation of this diploma anywhere on the globe via our online/live video feeds and interact directly with the lecturers. However, you should be present at our headquarters to get your practical experience on, which could also be compressed to a shorter number of days but with the same quality, working on different cases at different stages of their treatment plans.

Instructors
---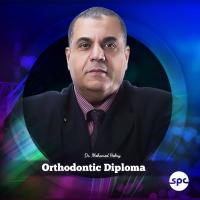 BDS Cairo University 2009 Morth RCSED UK 2017
Practicing orthodontics in sant cruz, California American Board Certified Clinical Professor at UOP in san Francisco.